What is going on with the trees this year? Why are so many of the same types of trees dying and have you noticed the strange growth patterns in so many others this year?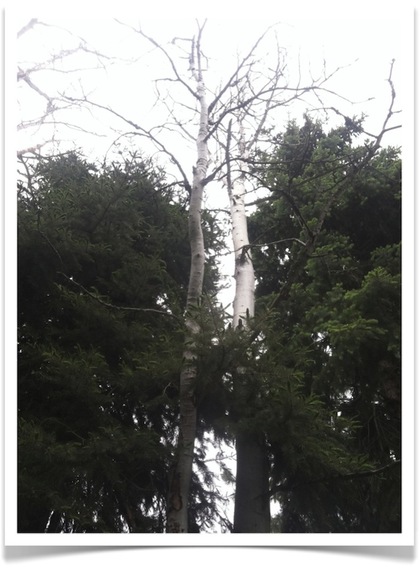 It's no wonder there are some serious changes in the way trees are growing this year in Boulder, CO. The weather has been unusual.
We had little snow in the mountains and record snow in town during the winter months. The winter was strange in that it wasn't too terribly cold so we had mostly mild temperatures and lots of sunny days. Then we would get a foot (once 2 feet) of snow overnight. It warmed up earlier than in years past and hasn't gotten very cold since.
In the early spring we had record low rain fall and now in mid-May we are getting some nice rainy days these last few weeks. Some flowering trees and other plants blossomed a month to six weeks early. That is why we also have apricots on our trees this year.
Apricot trees are one of the first flowering trees to bloom in the spring and they usually don't bear fruit because we almost always get a major drop in temperatures and some snow, killing the flowers off. This year, so far, no late winter, early spring snow or cold. Lots of apricots everywhere.
I went over to a friends house who has lived here since the 70's and who I've been helping care for her trees. We were looking around and we felt like we were looking at trees we've both never seen before. Some are fuller and more robust than ever and other trees looked like they were going to dye (trees that appeared perfectly healthy last year). Many trees have leaves nearly twice the size I've seen. Some trees will have tiny leaves all over and then a few that are enormous.
We pulled some down off this tall cottonwood and the little leaves were really hard and compact growing next to soft supple leaves that appear normal. Strange stuff indeed! Please come back and visit again for updates as I continue my detective work and try to figure out the mystery to the changes in trees.
Trees I have observed dying or not doing very well recently:
Visit changes trees test results to read the latest update about this topic.
Have a question about tree care? Contact us anytime.
Changes in Trees
was last modified:
June 16th, 2016
by