"An ounce of prevention is worth a pound of cure." – Benjamin Franklin.
The Lesson.
It was during November and October when a couple big snow storms hit Boulder, Colorado.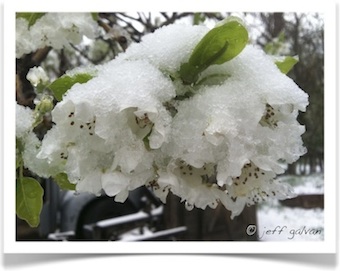 Until then, the weather had been unusually warm for that time of year and many of the trees still had their leaves.
It began raining late one night and temperature was getting colder, fast. Soon the rain began to freeze and within a couple hours the trees had a layer of ice on the branches and for the majority of trees in town – the leaves remained.
The rain turned to snow. The leaves were sticky with the ice that had formed on them and every bit of snow that fell on them, stuck. The snow that began to fall was wet and heavy. In no time at all the tree's branches where beginning to show signs of stress from the weight of snow that was accumulating on the branches.
It was 2 o'clock in the morning and I could hear the branches beginning to break. I began shoveling a foot of snow off the path and knocking the snow off any tree branch I could reach.
Nearly two feet of snow fell overnight and by morning the trees were a mess. Tree branches where laying in the roads all over town and a few had even fallen over.
Trees and branches fell on power lines causing electricity to be cut off for thousands of people living here.
Calls for emergency tree service started coming in.
Trees that had not been pruned in a long time appeared to suffered the most damage.
We checked out many of our client's trees after the storm and only one tree we had pruned the year before suffered any noticeable damage other than a few small broken branches and twigs. We credit this to the homeowners having called us to prune their trees before the fall snow storm.
Pruning trees can help prevent too much snow from accumulating on branches. The less snow that gathers on branches  the less overall weight the the must support, significantly.
Therefore, properly pruning helps reduce the chances of damage to branches and major tree failure.
Learn more about the different tree pruning techniques we use to help protect trees here.
Assessing Risk.
Depending on the condition of trees and what type of trees are on your property (some trees hold there leaves longer than others) you can estimate the amount of potential risk when a major storm hits.
And… In Colorado the two seasons when these type of snow storms arrive are:
Spring Snow Storms – In the spring when temperature start to climb and the leaves begin to grow the trees are susceptible to being damaged by the last snow storm, we often get. Here in Colorado we may even get a snowstorm clear up until may.
Fall Snow Storms – In the autumn months, we see this kind of damage to trees due to the warm sunny weather we get late into the year. The trees hold on to their leaves and then we'll get a sudden storm that hits them hard.
Preventive Medicine.
While nobody can completely eliminate the risk of tree failure caused by severe snow storms, there is something you can do to minimize the chances of damage.
If you want to help prevent damage to your trees caused by storms contact your local Boulder tree service company and ask for an estimate for pruning trees on your property.
It won't cost you a dime to find out what type of care your trees may benefit from, so there really are good reasons to contact a local ISA Certified Arborist before the next storm arrives.
For a no obligation tree care estimate in the Boulder County area contact us here.
Preventing Snow Damage
was last modified:
June 21st, 2016
by