Boulder Tree Care specializes in the art and science of safe, controlled, technical tree removals. We are a licensed tree removal contractor in the city of Boulder, Colorado.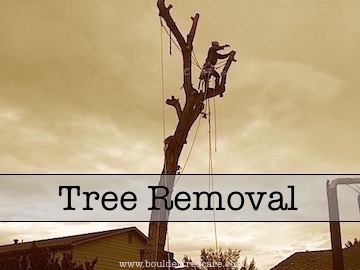 While removing trees may be necessary when it comes to protecting people or damage to property, we'll do our best to save them ~ whenever it is desirable, practical and safe. If it's not possible or desirable to preserve, we are capable of removing any size tree in any location, safely.
For your convenience, we also offer professional stump grinding services. Boulder Tree Care is a locally owned, fully insured tree removal service provider for Boulder, Colorado.
Please visit our pruning pages to learn more about the trimming techniques we provide for both our commercial and residential clients. Contact us today for your FREE ESTIMATE!
Removal Services We Provide:
Work that require years of experience using proper rigging and control techniques.
Stump Grinding
Crane Work
Emergency Service
We remove trees that are:
Dead.
Hazardous to persons or property.
Damaged, diseased or beyond rehabilitation.
Storm damaged.
Invasive species.
The wrong tree in the wrong place.
And for…
Selective thinning of overcrowded trees.
Fire mitigation in the Boulder County area.
Home sites and construction zones that choose to protect and preserve quality trees.
Trees that are milled onsite and used in the construction of a local home or building project.
Increased safety after trees have been destroyed by wildfires.
Can My Tree Be Saved?
Do you have a tree you want to save, yet appears to be unsafe or a potential liability? Every year we preserve trees people want to maintain by providing corrective tree pruning (trimming) and non-invasive dynamic tree cabling services.
These tree care techniques help create a safer environment around selective trees that qualify for such help and are desirable to keep alive. If you have a tree you'd like to try and save, we'll be happy to visit your property and evaluate the tree's health and safety.
How Much Does it Cost to Remove a Tree in Boulder?
Our formula for calculating the cost of removing a tree depends on these factors: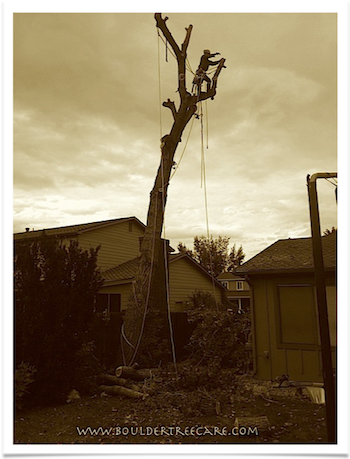 The Size of the Tree – The diameter and height of the tree to be removed are important factors when estimating the cost of tree removal.
The Location – Is the tree located over or near any houses or fences? Are there electrical power lines nearby? Is there access for machinery on the property that takes you close to the tree?
What Species – Some types of trees are easier to remove than others. (ie, honeylocust trees sometimes have sharp 6 inch long thorns covering the entire trunk of the tree, OUCH!).
 Is the Tree Stable or Unstable? Safety of the tree may depend on if the tree is well anchored in the ground or if there is movement at base of the tree. Are there holes or cracks in the wood that may make the tree unpredictable to remove?
Is the Tree Dead or Alive? Dead, dry wood and green, wet wood have different cutting characteristics.
Stump Grinding – Do you want to grind or remove the stump?
There may be additional things to consider, such as:
If you have additional trees that need to be pruned or removed it is usually more cost-effective to have them all done at the same time. Would you like to cut the wood into firewood size pieces and keep the wood on your property? Do you want to keep the wood chips and use them as mulch?
The combination of variables makes it difficult to estimate the overall cost of services without first seeing what is required. That is why we do not charge a fee to visit your property, evaluate the situation and write you an estimate.
If you have any questions or would like to schedule an appointment for a tree removal estimate, please contact us. Thank you!