Hi, I'm Jeff.
The reason I have chosen to care for trees is simple. I enjoy it! I have been planting, pruning, removing, studying and caring for trees for over twenty years. I am a local cerified arborist and the founder of Boulder Tree Care.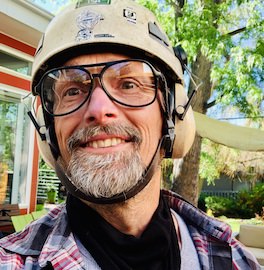 It is my fondness of working with the people of Boulder that has inspired me to establish our tree care company here and continues to motivate me to provide the highest standards of tree care excellence. I am grateful to have been working with the same local homeowners and businesses for many years and I look forward to meeting you and caring for your trees.
I have also had the pleasure of helping people care for their trees in many states, including: Colorado, New Mexico, Texas, Wyoming, Montana, Idaho, Oregon, Washington, California and Hawaii.
Throughout the years, it's my interest in photography that has inspired me capture an extensive collection of tree care and plant identification images. These are images of trees in their various stages of development and decline. These photographs can be seen on our website and are being view by thousands of people a month from all around the world.
My career as a professional arborist began in 1993. We starting with planting and caring for hundreds of trees on a 20 acre sustainable land project my friends were establishing.
Today, this land project continues to thrive.
In the beginning, there wasn't an established tree within the inner boundary of the land. Now, there is a nicely wooded property with beautiful, fully mature trees, many which bear a variety of fruits.
There was a small creek running through the property and now there are large, deep ponds with trout, ducks, visiting beavers, otters, and, an abundance of other birds and wildlife.
If you have any questions feel free to contact me here.