Winter Watering.
Many of us aware that early in the springtime and during the hot summer months trees need watering more frequently.  Did you also know that during the fall and winter months, whenever temperatures are above freezing, trees may benefit with extra watering?
How Much Water Do They Need?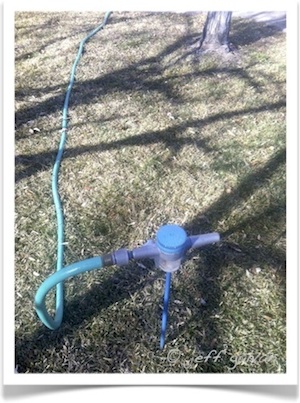 There are several factors that determine how much water a tree may need. It depends greatly on the:
Weather – How warm and dry it's been.
Tree Species  – Some trees are simply better adapted to drier climates.
Age of Trees – Newly planted trees often need more water than well established trees.
Location – Is the tree is direct sunlight or is it shaded under a canopy of other trees?
Soil composition – The variety of soil structures is vast and each release or retain moisture differently.
From the looks of things so far I would say our most valuable trees are going to need a couple of good deep root watering sessions before they begin to bud in the springtime. Here's why.
In Boulder, Colorado we are accustomed to it having snowed really good a few times by now, therefore, our sprinkler systems have been off and the water in them has been flushed out for several months.
Now, it's the end of January and with the exception of a couple cold weeks the temperatures have been warm and sunny for much of the winter. In fact, other than a white Christmas, we haven't had much rain or snow for months, it's been a especially dry season..
Our trees have not had much to drink for quite awhile. Not good if your a tree that needs a lot of water.
Last year, the spring-like weather came early and property owners didn't have their sprinklers on for about two months after the last frost date. All year long we received calls for tree care and many more of the trees we examined were in need of water. Read more about tree watering and water conservation.
Do Trees Need Watering in the Winter?
was last modified:
June 14th, 2016
by