A weed is just a plant whose virtues have not yet been discovered. – Ralph Waldo Emerson
Recently, we published a post called Changes in Trees which asked questions about the growth patterns and dying trees we're observing while working with our clients, here in Boulder, Colorado. Today, I would like to respond with an answer to one of the those questions and ask another.
At the end of the post, Changes in Trees,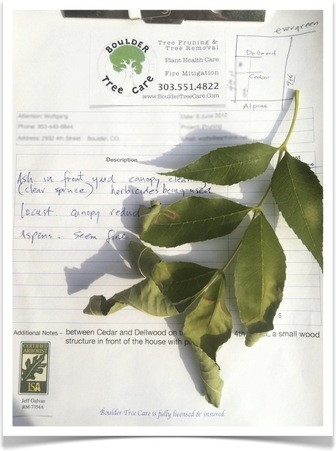 I was writing about going over to a friends house and observing symptoms we saw in the leaves (mostly the oak and ash). Samples of those leaves were taken to a lab to be analyzed and the results concluded that the leaves of her trees had, in fact, been affected by use of herbicides.
This came as a bit of a surprise because neither the yard, nor trees had been sprayed.
So we thought…
Continuing the search for answers, she spoke with her neighbor. As it turns out, it was her neighbor who had been doing the spaying. They had sprayed herbicides to kill (the ever feared and highly medicinal) *dandelions in their yard.
These trees are close to the fence line and the herbicides would not have had far to travel, by either the wind or ditch water. Looking more closely at the other plants along the fence we could see that other trees, bushes and plants had been affected as well.
While the use of herbicides is often used to kill unwanted plants, it comes at a price. It may kill desirable plants, contaminate air and water quality, and, affect the safety of people nearby, as well as, the health of the animals that feed on those plants and drink from the water that flows down our community's irrigation system.
Fortunately, the leaves have not gotten any worst and we think there is a good chance that her trees will be just fine. Next year, when the leaves grow, we will keeping our eyes on them to see if they return to having healthy leaves.
* Here are a few alternatives to using toxic chemicals to help you manage mild quantities of dandelions – Taraxacum officinale.
Pick the flowers and toss them in your salad. Yes, they are edible!
In the early spring before the dandelions go to seed, hire one of your neighborhood kids to dig them up for you.
Enjoy some dandelion tea.
Make dandelion wine:)
Another client has an issue with leaves falling off the ash tree in his front yard.
When he first called me, in the spring, the tree was beginning to drop the leaves it had just produced. By early summer, most the leaves had fallen off. Recently, he told me that the ash tree is vigorously creating new growth but the new leaves appear to be doing the same thing immediately after growing.
Here is my reply to this unsolved mystery:
I've been doing some research and asking around about this kind of ash tree behavior. Turns out there are quite a few reports of strange ash tree activities. Some with similar issues as yours. Combinations of things seems to be what's going on. The extreme weather we are having this year, over watering, the use of herbicides or fungicides and over fertilizing seem to be a common theme.
Many people who'd had problems with their trees, resembling the ash in your front yard, have reported healthy comebacks the following year. Back in May I saw this coming and wrote a post about it on our tree care blog.
Here is a link to that post. https://bouldertreecare.com/changes-in-the-trees/
The question now is: How come apples are ripe and falling off trees in July?
Changes in Trees – Test Results
was last modified:
June 16th, 2016
by