Boulder Colorado and Rocky Mountain Region
Botanical name: Quercus macrocarpa
Family: Fagaceae (beech)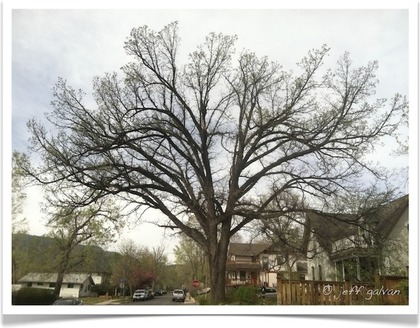 A.K.A. mossy-overcup oak, mossycup oak, white oak, blue oak and scrub oak.
The second part of the scientific name or specific epithet, macrocarpa means large seed or fruit and the bur oak produces the largest acorns (up to 2 inches in diameter) of all the oaks found in North America
Native.
Fully mature trees can grow massive 8 – 10′ diameter trunks with a huge open crown, that can be as wide as the tree is tall.
Reaches heights of 70 – 100′ and occasionally more.
They are slow growing trees, although, when they are young they can grow more than 12 inches a year in height and grow long tap roots  very quickly.
Lifespan is approximately 400 years.
Bur oak is a deciduous tree.
Simple leaves are broad and 6 – 10 inches in length with lobed margin.
Bur oak is monoecious.
Catkins are 4 – 6 inches in length.
 Trees produce acorns every 2-3 years.
It is drought and fire resistant.
Bur oaks fair well in urban environments.
Some damaging insects include oak webworm, oak skeletonizer, oakleaf caterpillar, oak lacebug, redhumped oakworm and June beetles.
Susceptible to (fungi)  Strumella canker, cotton root rot and Oak wilt – sometimes through rare root graphs with red oaks.
Hardiness Zones 3 – 8
  Photographs of the oldest bur oak in Boulder, Colorado.
Boulder Tree Care – Boulder, Colorado
Bur Oak – Tree Identification
was last modified:
June 16th, 2016
by