Inspection of the tree prior to cabling is important for determining if the tree has faults or damage that are too severe to be remedied.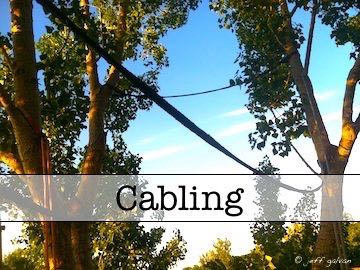 Once the tree has been properly inspected and the branches have been determined to be both large enough and strong enough to qualify for a cabling system, it is advised to correctly prune the tree first.
Prior to installing a Dynamic Cable System we properly prune trees. This will allow the wind to flow through the canopy and will help minimize the amount of snow that will be able to accumulate on the tree.
These systems are often referred to as non-invasive cable systems, require no drilling into the trees and they adhere to strength standards set in the United States.
Cobra (German-made), Tree Guard and Branch Saver are extremely strong, synthetic ropes that are attached to broad, non abrasive bands (ranging from 2 – 12 tons) that wrap around the tree's limbs being supported. This type of cabling system allows the tree to maintain it's natural movement. A healthy tree that continues to move will create reactive, support wood and over time, has the ability to grow stronger.
There are also some dynamic cabling systems that use traditional hardware, such as through-bolts and lag hook, to attach the synthetic "cables" to the limbs.
If you would like to know if your tree qualifies for a Dynamic Cable System, please contact us here.