Properly pruning and cultivating fruit trees requires experience that is different than when caring for ornamental shade trees. Here are some specific considerations for both planting and caring for fruit trees.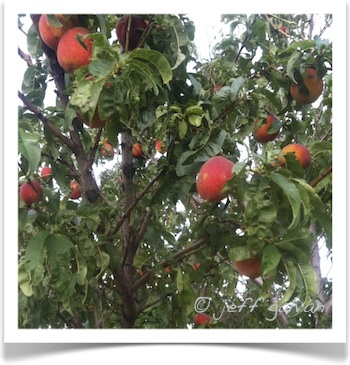 Height of Crown
The height of the tree will determine the level of difficulty when it comes to harvesting the fruit. Do want to be reaching over on a 16′ ladder picking apples or cherries ?
Weight of Fruit
The structural integrity is an important factor when it comes to the weight of the fruit a tree is producing. A tree must be able to handle the weight of fruit while minimizing the chances of branch failures. Snow may also accumulate on late fruiting trees, such as apples, adding considerably to the overall weight a tree must support.
Location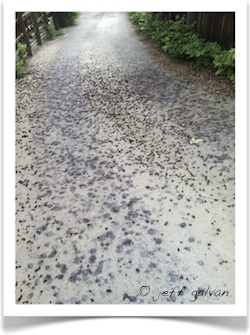 Depending on the type of fruit trees (that are being planted or already exist) location can determine if a tree is an asset or a liability. As we all know, fruit not harvested falls and as with any tree, a fruit tree planted in the wrong location can be a real problem.  We have a large mulberry tree in our backyard that creates a lot of berries. On a bumper crop year it produces several thousand berries more than we have time to harvest. By the end of the season the driveway, walking paths and rooftops are completely covered and stained purple from the juice of the berries. Wouldn't change having the tree for anything, but in hindsight it would have been nice if it had been planted further back in the yard.
Birds and Animals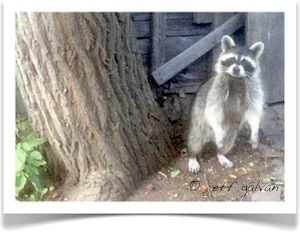 The raccoon, birds, squirrels and deer visit every day and night to eat the abundant fruit that grows in our yard. The racoons, squirrels and the bluejays make the most noise. This year there were several animal families living in the yard, including: 7 racoons, 5 bluejays, half a dozen deer (including the birth of two spotted fawns) and countless squirrels. The racoons would climb all over our roof in the middle of the night. Often we could see them walking across our skylights. My daughter and I would go to the kitchen window every night during the summer to watch the baby racoons gather and eat the mulberries and apricots that had fallen. She has grown up with all of these animals and thinks it is completely normal.
Pest
Fruit trees can attract many different types of additional pest that shade trees usually don't. Wasp, hornets, ants, earwigs and the noisiest bluejays ever (just to name a few) love to visit and eat the fruit.
When is a Good Time to Prune Fruit Trees?

To reduce the chances of transmitting diseases, we recommended (unless there is a specific problem to address) pruning fruit trees in the winter months, when they are completely dormant.
Boulder Tree Care's certified arborists are experienced pruning fruit trees both locally (for our clients here in Boulder, Colorado) as well as, professionally on orchards in Washington, Oregon and sunny California.
Save