What is the name of that tree?
There is only one BOTANICAL (scientific) name for each species and it aids us significantly in accurately communicating with others about a tree. The COMMON name of a tree can sometimes be helpful or confusing when trying to find out specific information about a tree.
For example: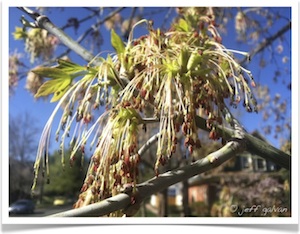 Two of the common tree names for Acer negundo are boxelder and black ash. These names might be misleading, since it is neither an elder nor an ash. On the other hand, it is also commonly known as an ash leaf maple which could be helpful when identifying the tree by it's leaf, because the leaves do look more like an ash leaf than a maple leaf.
It's scientific name is Acer negundo and therefore, with a quick search, we are able to identify the tree as a maple (Acer is a genus of trees we call maple). Now that we know the "universal" name we are able to communicate with others about a tree's unique characteristics.
*AKA: Ash Maple, Ash-leaf Maple, Black Ash,

Cutleaf Maple, Cut-leaved Maple, Stinking Ash, Red River Maple, California Boxelder, Sugar Ash, Three-leaved Maple, and Western Boxelder.
Here is our list of both names for many trees commonly found in the Rocky Mountain area:
Botanical Tree Names
A
B-C
E-G
J
K-M
P
Q
R
S
T
U
Common Tree Names
A
B
C-D
E
G
H-K
L
M-N
O-P
Q-R
S-T
U-W
Photography © All Rights Reserved
Save
Save
Save
Save